It's been a while....
This past weekend our club had its annual E-Fly event. I brought the T-28, Sbach and my new Sky Surfer. the winds were a bot more than I expected plus they were a direct crosswind. I flew the T-28 for two flights. Dave Evans took some great in-flight photos. I also flew the Sky Surfer for the first time. It did well for as windy as it was. The stock prop is about worthless, however. it does OK at mid-throttle but not much more than make noise at full. It's too flexible. I've swapped it out with a CAM prop from Graupner that I had in the spares bin. We'll see how it does next time I fly.
I opted not to fly the Sbach with the wind being what is was.
All in all a good day...no crashes...fun times trying to land the T-28 in the cross wind and I won the pilot's choice award (which was a surprise...) Emmy and Evan had fun. Emmy had to help carry my transmitters and Sky Surfer when I was done flying
I resurrected the Fly Cam One I bought several years ago. I plan on putting it on the Sky Surfer. Stay tuned.....
Oh, the Zero now has several flights on her. A very nice flying plane, but then all Zeros fly nice. I really like that FMS one. Reminds me of the EZ Zero ARF I had years ago. This FMS one is a suitable heir.
I expect to start that FMS Stuka soon as well. Got her back in December so the time has come to add her to the stable.
That's it for now....
Work started on the FMS/Airfield Zero.

First up was to paint the wheels wells aotake green and the gear struts black. The chrome on the cylinder was covered with a strip of adhesive chrome monokote trim sheet.
Got this one a few months ago. Very nice ARF from SebArt.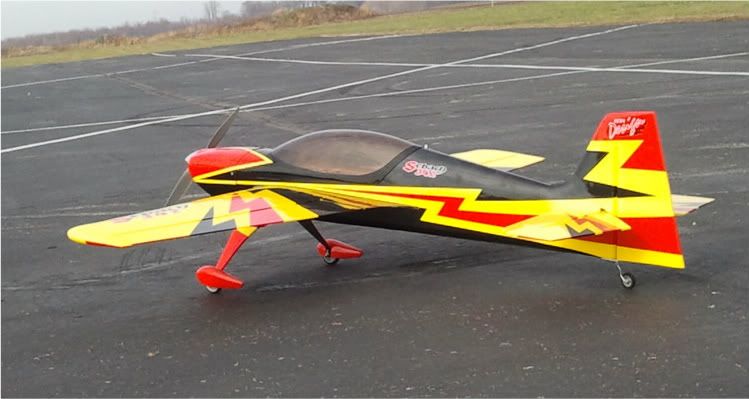 ...Continue Reading
Some new pictures of the T-28 at the field...........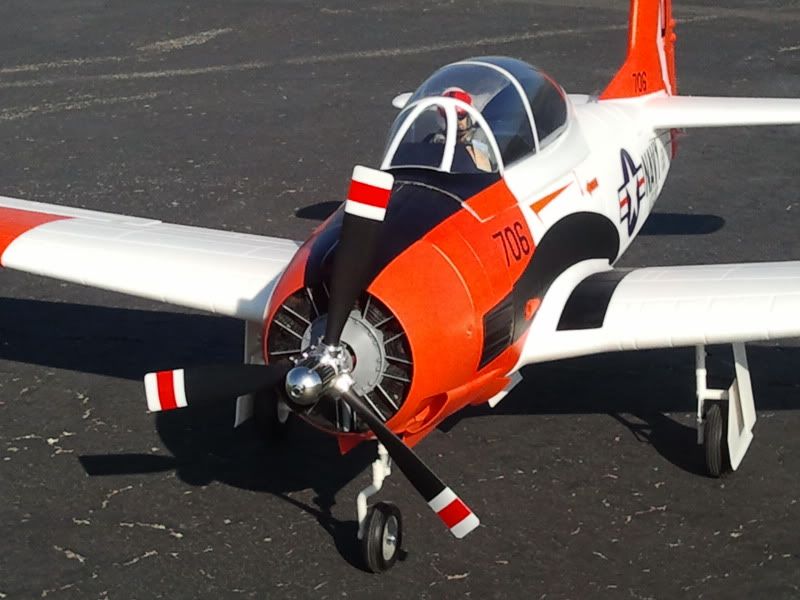 ...Continue Reading
Been wanting this one too from FMS/NitroPlanes and the Black Friday sale sealed the deal. I splurged and got the RTF version.
I'll have plenty of planes now for the spring....
Just arrived last week to my hangar from NitroPlanes....
checked everything inthe box to make sure it was working. I got the ARF version and will be using my Dx6i Tx and AR6200 Rx in this one.
More to follow....
I got my Aces of Iron pilot the other day for my T-28. He was painted using a mix of Aeromaster and Tamiya acrylics.

I added a folded sectional for the glareshield. I printed off a jpeg I found from Google image search and folded it then glued it in place.

The new pilot looks much better than the goofball one included with the plane.
Well, I had another first flight today....
This time is was the Airfield/FMS T-28A Trojan ARF.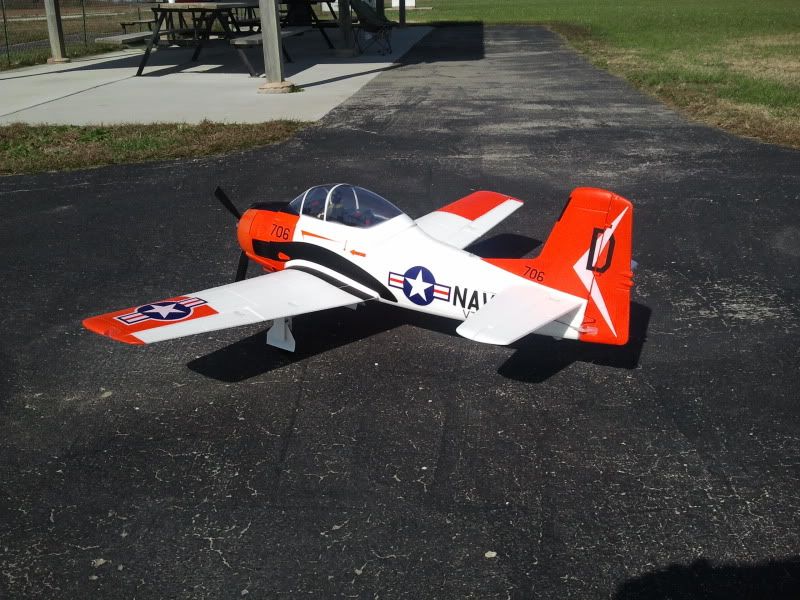 Got this one from a fellow RCG member (microDan) for a very nice price. It was the RTF version that comes with Airfield's own 6ch 2.4 radio and 4s 2600 mAh battery. Very little assembly is required. I had it all done last night and ready to go for today's flight. I did change the connectors on the ESC to Anderson Power Pole type. I use these on most of my planes. I left the stock connectors on the battery but used the snipped off one from the ESC to make an adapter. That way I can charge the battery and still use it in the plane. The wires from the battery weren't long enough to install new connectors.
I also added a larger nose wheel. The stock one is nice but is only 1 3/4" in dia. I wanted just
a bit
more prop clearance so I installed a spare 2 1/4" light wheel I had on hand. And speaking of props...... I
really
love the prop that comes with this ARF. It's totally scale. In fact all of FMS' ARF's have scale props. One wonders why this hasn't been done before.
I also like the retracts and how scale they look. Plus there are sequenced gear doors.
...Continue Reading
Flew my SebArt Sebach 342 for the first time this weekend. Wanted to do it Friday but the wind was really too strong and gusty. So what did I do.....flew it anyway. Yeah, I never learn. At least it was blowing down the runway so no crosswind to deal with. She flew fine but CG was really too far aft. Plus I had some Rx issues with the way I mounted the Deans antenna. I landed after two circuits of the field and called it good.

At home I rechecked the CG and moved the battery about 1 1/2" forward. I also swapped out the Rx and remounted the Deans from below the fuse to inside and made the antenna wire run more linear. This helped a lot. Yep, I still fly on 72MHz.

Finally got out to the field Sunday morning. calm winds and high, thin overcast sky. All I had to do was turn on the Tx and plug the battery in. Tx set to low rates on ailerons and elevator for T/O, gave her the throttle and off she went. No factor here. Did a circuit or two on low rates; slow rolls and needed a bit of power for the loops but very docile. Switched to high rates and that's where she came alive. Probably about a 360 deg/s roll rate, loops were right when you wanted them, can even square off the corners. KE was no problem with all that rudder throw, a touch of up elevator to keep it from flying away. Snaps were good, full 360 snap and she would slow a bit on the exit. even did a few spins; neutral on the sticks and she came right out.

This plane feels 'light'. Not at all heavy.

AUW with a TP 4s 3300 battery is 3.75lbs. I'm flying an APC 13x6.5 prop and the whole setup is putting out 475W according to the wattmeter.

This one's a keeper.
Hmmmm....what to post here? Have to think on that one....