Bounce: Reference Shots to be passed on to another members build.
Reserved for build log, Specs, mods, characteristics and observations.

Project shelved till a duct solution is determined.
Reserved for build log, Specs, mods, characteristics and observations.
Manufacturer: FREEWING
Make/Model: Eurofighter, Typhoon, EF2000
Vendor: Hobby Lobby (V2 Frame only)
Foam type: EPS Wingspan:
Wing Area:
Wing Load:
Wing MAC/Foil %:
Length:
Weight:
Factory Dry Weight:
AUW:
CG:
Max: ###mm
Static AC:
Dynamic AC:
NP:
Detachable Wings:
Rudders:
Elevatons:
Twin Thrust Vectoring: FW 360 (Pitch, Roll, Yaw) 60mm ID
Drive System:
ExtremeRC Wemo MidiPro
Battery:
22.2V/6S
29.4V/8S
5000mAh 45C Li-Polymer to XT150 6mm bullet

Power Connection:
XT150 6mm bullet paralleled to

(1) 22awg wire with 2.5mm Banana connector to (A)

(2)10AWG ###mm to (B)

(A) BEC: External 10A CC BEC to RX

(B) ESC: 80-120A (12AWG ESC-Motor) ###mm 4mm connectors

EDF/Fan/Motor:
Wemo MidiPro's
Wemo Fan 90mm,
Motors:
Dia : 36mm
Length : mm
Shaft Dia. : 5mm
Weight : grams
No load current(lo) : Internal resistance:
KV :
Poles:
Max Current: A
Max efficiency: %
Power Nominal:
Watts on 6 cells
Advance timing : °
Middle
PWM: 16 Khz

Radio: 9Ch
(1) Throttle:

(2) LEvn:
(3) REvn:

(4) Rudder: Y, Steering & Rudder

(5) Gear: Turnigy (A) door and (B) gear (C) Lighting Sequencer
(A) Retract Servoless retract system PZ15091-Metal AKA HK514
(B) Door servo
(C) Lighting Mains

(6) Canard: Flap control setting
neutral 2°
3D 12°
Alpha/Landing 20°
Brake 70°

(7) TV L: Ail>Aux2/Elv>Aux3

(8) TV R: Ail>Aux2/Elv>Aux3

(9) Lighting or TV Yaw

Landing Gear:
Strut:
Nose Gear Strut and Wheel Height_###mm_, Wheel Dia. _##mm_

Main Gear Strut and Wheel Height_###mm_, Wheel Dia._##mm_
Reserved for build log, Specs, mods, characteristics and observations.
http://www.rcgroups.com/forums/showp...83&postcount=9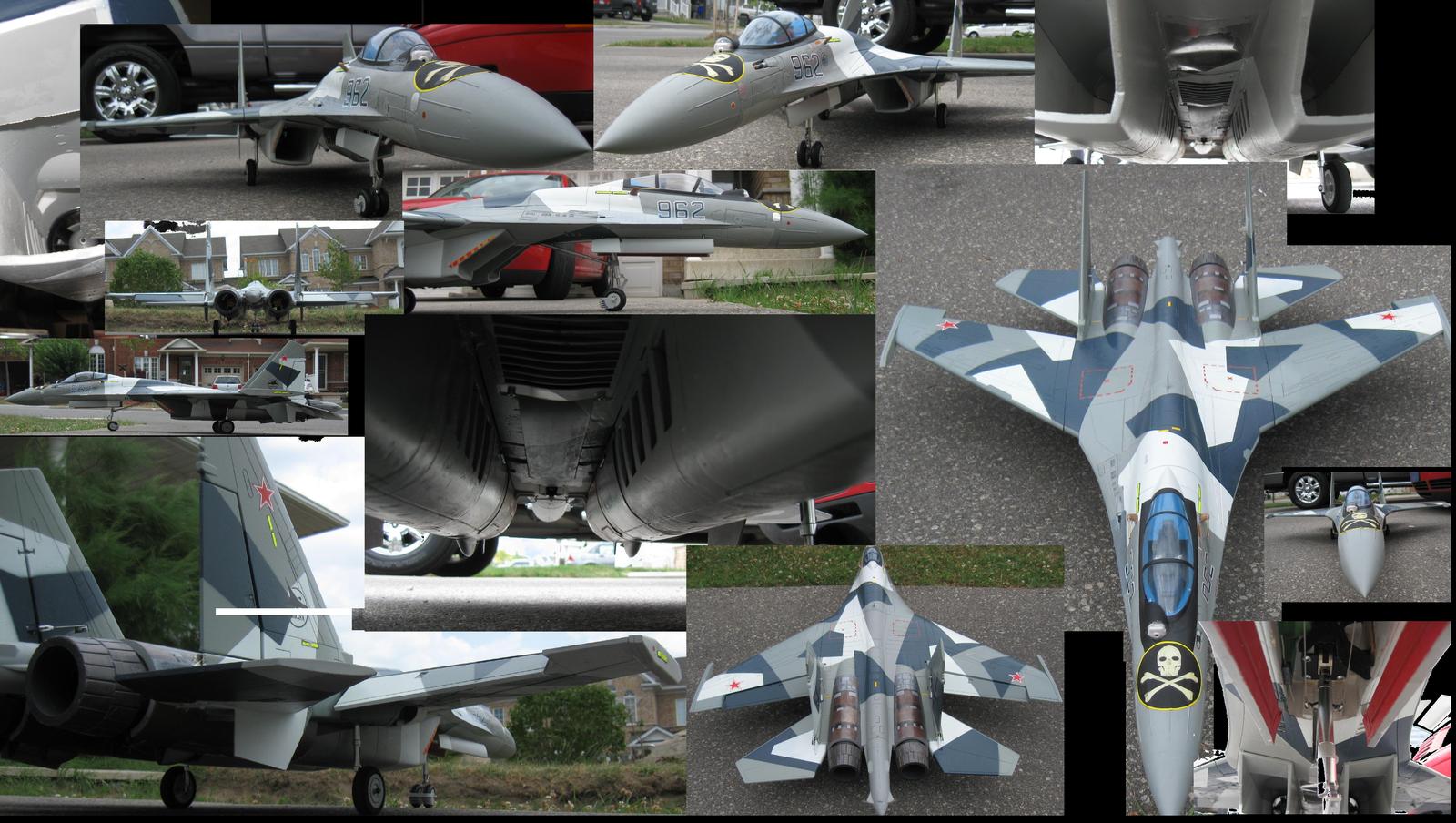 Aircraft: SU-35BM (S) Super Flanker
Manufacturer: FREEWING
Vendor:
RC-Castle
3D Sport (PnP w/out Power Setup)
Foam type: EPS
Wingspan: 1080mm (42.5 in)
Wing Area:
Wing Load:
Wing MAC/Foil %:
Taileron Area:
Taileron MAC:
Length: 1630mm (64.2 in)
3D Factory Dry Weight:
Sport Factory Dry Weight:
AUW:
CG: Factory Range - 145mm-155mm from wing root on fuse.
Max: 167mm
Static AC:
Dynamic AC:
NP:
Detachable
Wings: (4pc M4 Hex 1/2"),
Rudders: (Hex screws 2pc N0.4 25mm, 2pc NO.4 30mm),
Elevators: (4pc. tapered head tap screw)
Twin Thrust Vectoring: FW 360 (Pitch, Roll, Yaw) 60mm ID
Drive System:
ExtremeRC Wemo MiniPro HET 2W25
187g ea. 6S, 61amp, 2.1kg.
Battery:
22.2V/6S 5000mAh 45C Li-Polymer
Battery List From SU-35 Thread
XT150 6mm - 10AWG 290mm -XT150 6mm
ESC:
2x HobbyWing 80A (12AWG ESC-Motor)
BEC:
10A CC BEC - RX
EDF/Fan:
2 x Wemo MiniPro's/Wemo Fan 70mm,
Direct solder 12AWG - 4mm Bullets -290mm
Motors:
2W25
Dia : 28 mm
Length : 48 mm
Shaft Dia. : 3.17 mm
Weight : 110 grams
No load current(lo) : 2.2
Internal resistance: 0.016
KV : 2720
Poles: 6
Max Current: 70 A
Max efficiency: 87%
Power Nominal: 1100 Watts on 6 cells
Advance timing : 18° Middle PWM: 16 Khz
Radio: 9Ch
Rewiring:
Cut Y's, Aileron, Stabilator,
...Continue Reading
Again in reference to jets and their sensitive nature especially with Tailerons or Stabilators, the servo linkage needs precision setups no different than found on precision fliers.
Many argue TX resolutions but this not only needs a precision servo but also proper linkage setup.
e.g. Deflect the surface to its maximum range. The control horn of the surface should still clear the pivot point or where the fixed surface is connected to the moving surface. From the horn you then want to connect the link rod to the inner most hole of the servo arm that will swing the servo through its full movement.
The advantage is you get the maximum mechanical advantage with the highest torque from the servo making even a light servo strong.
A quote from Troy Newman
Geometry of Pattern Plane Linkage
Geometry is a huge part of linkage setup. We're now dealing with precision setups not 3D. We're talking about using the servo to its maximum efficiency and using the best mechanical advantage possible on our linkages.
First step: You want to choose surface control horns and servo arms that give you only as much throw as you need. If you're only going to fly on 10 degs of aileron travel why set up the linkage for 20 degrees maximum? I never run my flying rates less than about 80%. Yes that means D/R values are around 80% this gives me some wiggle room to get a little more aileron travel, if needed, but still maintain the resolution of my servos. You want to run the longest control horn
...Continue Reading
I've found for many jet configurations from manufacturers to be off particularly for jets and their flight envelope that differs from standard prop jobs. So here's a quote directly from a JR manual.
Source JR TX manual on Flight modes, D/R and Expo.
For example, let's consider a jet aircraft and how Flight
Modes might be used to make the pilot's job easier. The
jet will utilize 3 Flight Modes - 1 for takeoffs, 1 for flying
at high speed and 1 for landing.
During takeoff, full control deflections are desired, with a
moderate amount of Exponential to assist in rotation and
control of the aircraft at takeoff speed. Steering should
have a lot of Exponential to avoid over-steering during
the takeoff roll. So for the 1st Flight Mode (FM0), Dual
Rates and Exponential curves are set for Ailerons and
Elevator to allow adequate control for rotation and control
at takeoff speed, while a high percentage of Exponential
is set for the rudder/steering to help prevent over-steering
during take off. If the aircraft is equipped with 3 position
Flaps (Retracted, Take-off position and Landing position),
the Take-off flap position can be assigned to only the 1st
Flight Mode to assist in takeoff. There may also be a Gyro
attached to the steering/rudder and the Gyro gain can be
turned-on and associated with the Take-Off Flight Mode
to assist in keeping the aircraft straight during the takeoff
roll.
For normal flight at higher speeds, the 2nd Flight Mode
(FM1) would be
...Continue Reading