My RC Lander Hawker Hunter EDF jet with working retracts in ETPS (Empire Test Pilots School) colours. One of my all time favorite jets from the 50s.
Dimensions: 34" wingspan, 45.6" length, a whopping 3.3lbs.
Powerplant: 68mm aluminum ducted 5 blade fan, 6S 2399kv motor using a 22.2V lithium poly battery pack.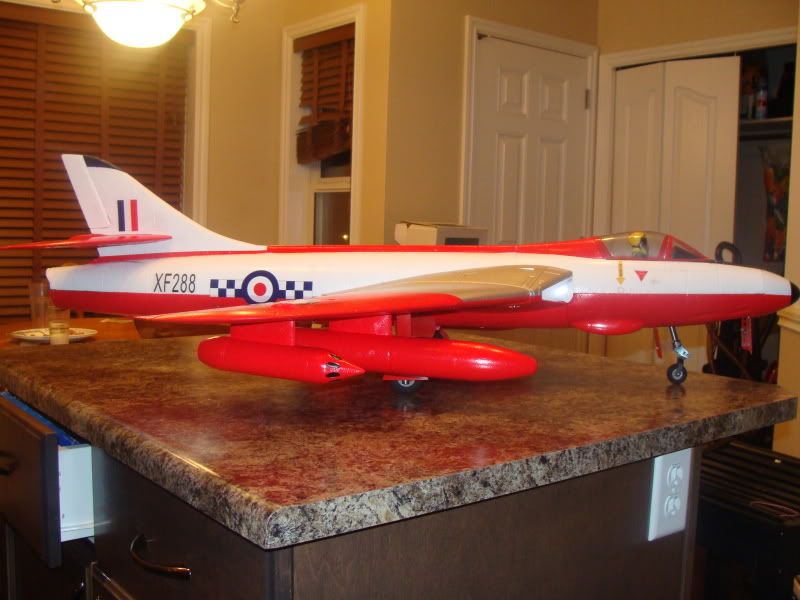 My Red Square IL-2 Sturmovik. This is a 15 size balsa/ply/film construction powered by a Nova Line 3019-12 BL, CC Phoenix ICE 50 amp ESC, and 3S 2200 lipos. The thing is a fantastic flier and with the Nova 3019-12 BL it is way overpowered which makes for lots of fun when doing flybys at full throttle and aerobatics. This one really turns heads of the IC guys at the field when they see it fly.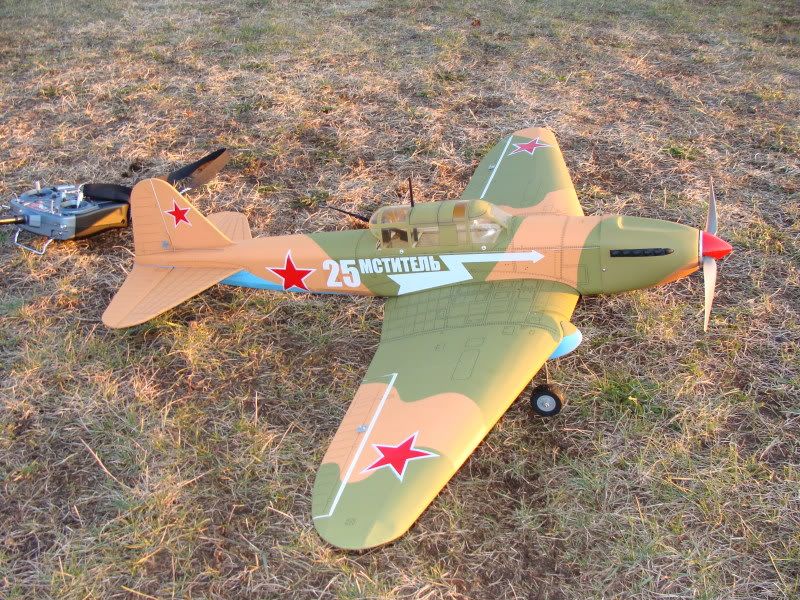 ...Continue Reading
First off, a little background.
I have been interested in aircraft as far back as I can remember. Any type of aircraft interested me, but mostly WWII warbirds and jets from the 50s and 60s.
I recall and cherish the days when I was 4 or 5 years old, sitting down with my dad and helping him build model aircraft which would eventually end up hanging from my ceiling. I still remember vividly the day he brought home a P-38 Lightning model kit. It was probably a 1:48 scale, but as a small child, the plane looked huge with it's twin engines and twin tail booms. Even today that aircraft holds a fascination for me that no other aircraft has.
In my early teens, a neighbor had introduced me to RC flying. I would tag along with him and watch him fly his nitro powered trainer and Cessna. RC flying, back then, was a little different from today's hobby. You had to build your models from the ground up which took alot of time, patience, and money. I remember specifically one aircraft he had built; a C-47 Skytrain. It was quite a large aircraft and it had taken him almost 2 years to complete. He had invited me to go with him to maiden it which was quite exciting. After spending what seemed like 10 minutes synchronizing the engines, he check his flight controls and began his taxi for take off.
As he throttled up, I remember getting goosebumps from the sound of the twin engines. They whined loudly, in their struggle to get the large plane speeding down the strip and then, airborne! ....
...Continue Reading