Saw this info on THIS POST
http://www.rcgroups.com/forums/showp...postcount=3857
Just wanted a place to save it.
Quote:
Originally Posted by
MegaTesla

I use:
"Video DownloadHelper" add-on for FireFox browser to download Youtube videoclips if necessary.
Anyvideoconverter to create .wav files.
http://download.cnet.com/Any-Video-C...-10661456.html
(remember to untick spam install during installation)
Click on Output profile and Audio files. Then choose *.wav
File > Set output folder, otherwise you won't find the .wav file.
I use this to view the frequency spectrum:
Cool Edit Pro 2.0
http://www.oldapps.com/CoolEdit.php
(Evaluation keeps on working and allows spectral views)
File > Open Waveform
View > Edit Waveform view
View > Spectral view
Options > Settings > General : Select mouse arrow.
Zoom in on an area with a speed pass.
Options > Settings > Display : Increase resolution. Play around with the other settings until speed pass curves are easy to see. Any of the octaves/harmonics that are clear can be used. I usually check two or three and compare values. If you read the frequencies accurately the speeds should be within a decimal of each other.
Read coming and going frequencies off the spectral view. Point with the mouse and read the value displayed in the bottom of the screen.
If coming and going lines are not very thin, point the mouse to the centre of the line.
Punch the frequencies and temperature into jfinch's spreadsheet:
http://www.rcgroups.com/forums/showp...7&postcount=20
It takes a few minutes but is worth it.
Example of Cool Edit spectral view: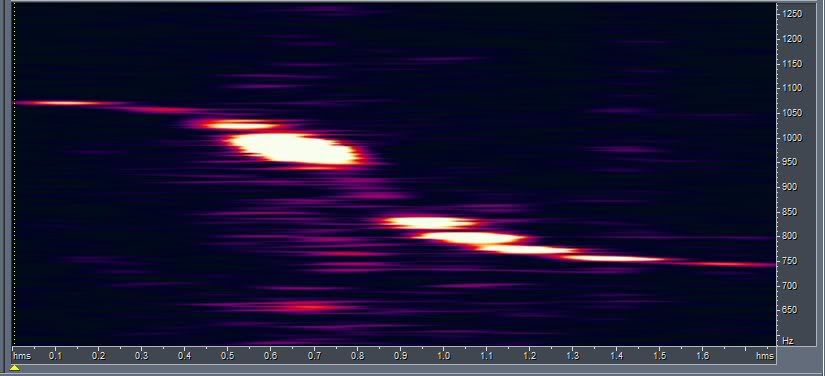 I thought this would be a great place for people who are inquiring about my smoke setup on my 72" Extra on the DLE30.
First off just a brief overview then I will list the parts of the smoke system I got.
72" Extra 330SC
DLE-30 V1 Side Carb
20x6 Xoar Sword Prop
Canister Muffler from 3DHS
7985MG Servos running on 6.6V LIFE
42% Products IBEF
Futaba Guidance
Harris Model Products Competition smoke pump.
2 8oz Sullivan fuel tanks Engine runs about 10mins on the brand new engine. Smoke seems to last about 3mins of running.
List of Parts for smoke.
SULQ1206 Sullivan Nitrile Smoke Oil Tubing 3/32" 3' High Heat
SULQ2486 Sullivan Fuel Tube Connectors & Tees (for fueling)
SULQ2389 Sullivan CT-P Screen Filter Large
SULQ1756 Sullivan Anti-Siphon Valve
SULQ1427 Sullivan RST-8 Rectangular Tank 8 oz
ROBP1201 Robart Liquid Sky Smoke Fluid 1 Gallon
2 JEM Fuel dots (bought off FG or fleabay)
Harris Model Products Competition Smoke pump
http://www.harrismodelproducts.com/
Tygon fuel tubing whatever you use for the fuel system.
Bit of Copper pipe to wrap around muffler and inlet.
Car muffler exhaust patch kit.
If you see I have the 2 tanks on foam pad to help them from foaming up with the vibration. I have vent lines wrapped around the Velcro and coming out the bottom for fueling. I then T off the smoke and fuel lines with the Sullivan Tees to go to my JEM fuel dot. From there the smoke line goes to the in and out of the pump. I have the pump hooked with a servo
...Continue Reading