Latest videos published.
http://www.youtube.com/watch?v=usbSk7LNgWY
MY HEXACOPTER - V2
First Hover.
...Continue Reading

Sticky:
Profile Jet (pusher) addiction
I kinda' got left behind with my flying buds on pusher jets. They were more obsessed in making it go fast. I was not able to join them simply because my radio was not capable of delta mix.
My initial fling with 2 servo deltas were not so favorable.
MODEL #1
The first one I built was none other than RCPowers F-117. Bought the plan & made copies.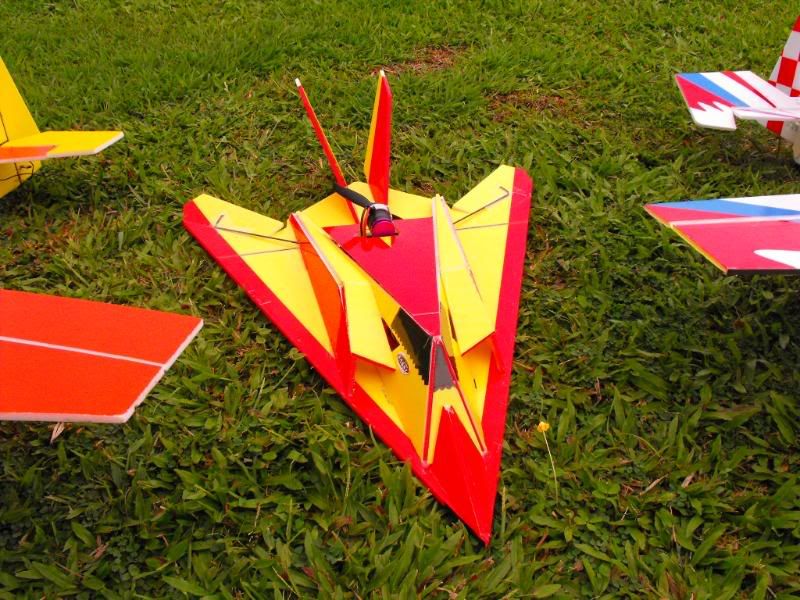 ...Continue Reading
This is the 1st day I was testing it with my 450. Built my own LG/cam mount out of foam blocks & I've got rid of most vibrations.
Notice the heli gets unstable above the treeline, I don't have visual cue of the blades rotating disc no more, I need to put in active stabilization to maintain level disc orientation when it is high up.
My introduction to aerial photography.
I think I did pretty good for a first time.
Hansolo's HK-450
With the U.S. economy going into a restructured plan, things big or small will/are bound to be affected. China which supplies the whole world with whatever, much so the U.S., will be facing harder times than most. Imagine billions of people losing their jobs, just say a million will go suicidal.
But hey, nothing they can't handle. They are a tough race.
In the small business sector of the heli model world, things could be tipping to our favor. Lower the cost some more, but keep the quality up, so you'd survive. This is the exact case of the $35 HK450 ccpm heli:
http://www.hobbycity.com/hobbycity/s...Helicopter_Kit
My first 450 heli was a top of the line hybrid that was nowhere as cheap. Meaning, it's got all the goodies & improvements, without the hype of the "misaligned" brand nicely engraved on the parts. This engraving or what have you miraculously adds 60 to 80 percent more on the sticker price.
I know not to skimp on quality & I have been a skeptic from the start. As one flier would describe it, his 450 parts alone cost more than $35.
Being a clone of that big name brand is it's biggest selling point. So it sold like hotcakes maybe coz' of that, or maybe it was just dirt cheap for a ccpm heli. With all the commotion caused by this heli, you feel compelled to jump on the bandwagon & again, maybe because it was dirt cheap. So amidst the back orders & all, I somehow managed to grab me a kit.
http://i69.
...Continue Reading
"Moijiah" Proudly wearing the Philippine Flag ( *digital rendition, not official )
Starboard side updated look.
Hello!
A full month had passed since I have been lurking around the boards researching my very first 6 channel heli. This review is from a newbie's POV, offering you a fresh look at the heli as compared to a seasoned vet that has helis lined up at his disposal, flies the living cr@# out of it, & barely has time for projects as elementary as a 450 size.
My heli experience is limited to a Lama V4, I've had it about 2 months & I felt that it was time to move up to a single rotor CP.
At first I thought of going with HBCP2 route, it's not a bad stepping stone, many pilots also went thru this route. Exchanging PM's & further research led to me to conclude that a motor driven tail could be a good step forward but a belt driven tail would be better. So a belt driven tail it is.
The 450 size seem to offer the most variety in electric helis, be it heli choice, aftermarket upgrade parts & LHS parts support, not to mention a price within reach to a newbie wanting to try out helis.
One model ALWAYS calls a newbie's attention in this size, for it's pricing & RTF package. Overall, a heli that flies most of the time, the model that you either love or hate
, the BELT CP.
I would not be going through a Belt CP's strengths as it has 132 pages of it on the BELT CP thread(yup I read through those).
With the inherent design &
...Continue Reading