Posting this to remind me of the specs and possible combinations.

Motor: TURNIGY 50-65A 400kv Outrunner
Specifications:
Model : TR50-65A-400
Input Voltage : 14.8V~29.6V (4~8S Li-po)
Kv : 400 rpm/V Ā} within 10%
Current capacity : 60A/60s
Dimensions : 50mm X 65mm / 1.97in X 2.68in
Shaft diameter : 8mm / 0.31in
Weight with cables : 414g / 14.60oz
Number of poles/magnets : 14
Recommended model weight : 3000~4500g / 100~200oz
Power equivalent : .50 to .72 glow engine

My first choice for a a ESC was a TURNIGY K-Force 70A-HV OPTO Brushl,
but it has literally toasted on the first run, ok second choice of ESC:

TURNIGY Plush 80A w/ UBEC Speed Controller
Specification:
Cont Current: 80A
Burst Current: 90A
UBEC Mode: 3A/5v out
Voltage Range: 5.6v ~ 26v
Weight: 91g
Size: 88x31x14mm


Use HIGH timing, 6s 4400 lipo, 15x8 or 16x8

15x8 APCe, 6s 4000 Flightmax lipos, HK SS60-70 esc, 46-47amps, 1050watts

Proctor 1/6th Camel, Plush 80, 4s 4400 lipo, 16x12 Zinger (standard timing)
56in wingspan
Engine: Up to 61 engine; recommended .60 with 14x5 prop
Throws:
- Aileron: 40 deg.
- Rudder: 25 deg.
- Elevator: 25 deg.
- CG Rear Limit is marked 4in 5/8 behind the leading edge of the upper wing. Plain indicates that CG is best 1/2" behind leading edge of lower wing
Linked thread:
http://www.rcgroups.com/forums/showthread.php?t=2005960
Following is a quote of a quote that I found online. It ws posted on some military board Sept 23, 2003:
"A quote about the F-104 from a friend that taught me a lot about flying the Zipper..."
"I must comment on the fact the Italians are going to the F-16 ADV news. I am and have been in contact with many Italian F-104 pilots and from what I hear they are not happy to give up their "Zippers" for the "Viper and square corners" ; further more, no F-104 pilot would ever say the 104 is not a fighter. These comments came from staff weenies who no nothing about aerial combat or aircraft of any type. Regarding F-16 victories over Bosnia one needs to be there in order to engage, from what I hear no "Zips" were actually there, but were relegated to ADC behind the FEBA. If the Italians and for that matter the Turks and Taiwanese had done the avionics and other upgrades proposed by Lockheed in the early eighties then there would be no need to switch. Most if not all kills in Bosnia were/are "Slammers" AIM 120s, with the help of AWACS. The "Zip", if so modified as recommended, and deployed into the threat area would be killing Migs. Read some of the engagements a piper cub equipped with "Slammers" could have gotten most of the kills. We put up with the same BS in Vietnam not allowing us to go up on Linebacker and other Mig hunting operations. Having fought the "Zipper" fight now for 40 years, I can
...Continue Reading
I found this online today. I've been a bit Cub crazy the last few months.

From the PIPER CUB Special J3C-65 OWNER'S MANUAL, dated MAY 15 1946.

TEN COMMANDMENTS For Safe Flying

1. THOU SHALT NOT BECOME AIRBORNE WITHOUT CHECKING THY FUEL SUPPLY: It only takes a few minutes to gas upÖ it may save you a forced landing.

2. THOU SHALT NOT TAXI WITH CARELESSNESS: Taxi slowly and make S turns to clear the area in front of the nose. Know the proper use of the controls for taxiing in strong winds.

3. THOU SHALT EVER TAKE HEED UNTO AIR TRAFFIC RULES: Keep a constant lookout for other aircraft. Follow the rules so that pilots of other planes will know what you are going to do.

4. THOU SHALT NOT MAKE FLAT TURNS: This is particularly important when making power-off turns. You steer with the ailerons, not the rudder.

5. THOU SHALT MAINTAIN THY SPEED LEST THE EARTH ARISE AND SMITE THEE: Donít be fooled by the increase in ground speed resulting from a downwind turn. Keep sufficient airspeed.

6. THOU SHALT NOT LET THY CONFIDENCE EXCEED THY ABILITY: Donít attempt instrument flying in adverse weather conditions unless you have the proper training and the necessary instruments. Instrument flying is a highly developed science. Donít pioneer.

7. THOU SHALT MAKE USE OF THY CARBURETOR HEATER; The carburettor heater is your friend. Know when to use it. Remember that itís easier to prevent ice in the carburettor than to eliminate it after it has formed.

8. THOU SHALT NOT PERFORM AEROBATICS AT LOW ALTITUDES: Aerobatics started near the ground may be completed six feet under the ground. Thereís safety in altitude.

9. THOU SHALT NOT ALLOW INDECISION IN THY JUDGEMENT: Be certain! You canít afford to make errors of judgement. ďI think I can make itĒ is on the list of famous last words.

10. THOU SHALT KNOW ALWAYS -- THE GOOD PILOT IS THE SAFE PILO T: Itís better to be an old pilot than a bold pilot.

Courtesy of Piper Aircraft Corporation
Lock Haven, PA
Pics of my HVP Beaufighter: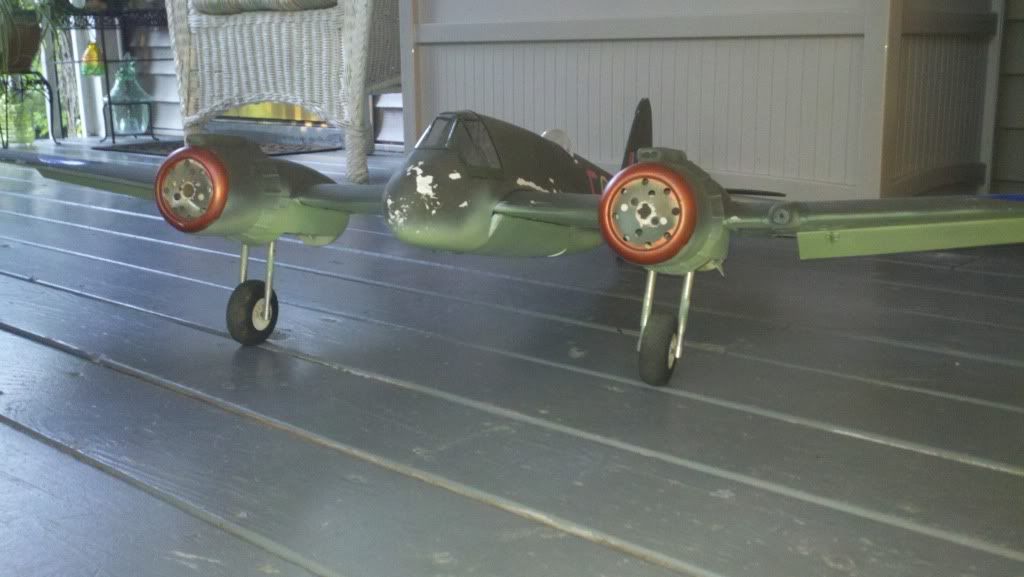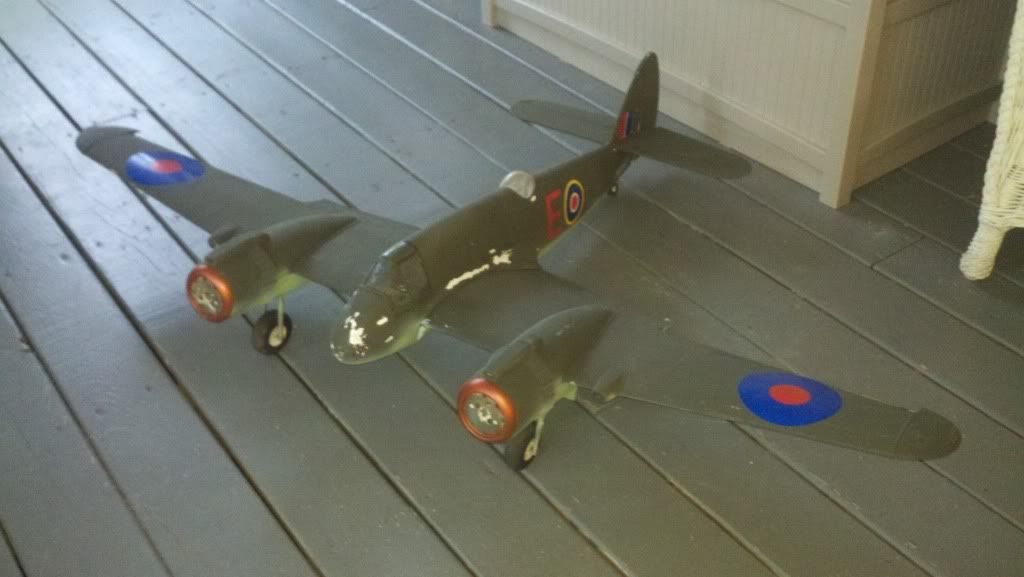 ...Continue Reading
Took the old Eflite P-38 Lightning out for a flight yesterday evening. Hadn't flown it in at least a year, maybe two. I have a habit of not flying the planes I really like. Silly huh?
I warmed up with my Eflite Sea Fury (I love that little bugger!) and my FSK dH Mosquito (love that one too but it's a little harder to fly well). Time to get the P-38 in the air. Taxied her around a bit to make sure all was working well. Preflight all controls then line up into the wind and ease on 100% throttle. Gained about 3 feet of alt and began a curve to the right that I couldn't correct. Smacked the right wingtip into the grass and she came down hard but slow and broke the booms in the the usual places: at the front of the scoops and in front of the tail group. Broke the upper and lower rudder halves and cracxked the wing tip too. Easy fix with white Gorilla glue but what could the problem be? Certainly not me or my thumbs!
Took out my repaired Lightning and did the same warm up routine with the Mossie and the Sea Fury. Preflighted the P-38 and taxied around a bit. I noticed that the starboard motor spooled up a fraction of a second after the port motor but they came full on together. Lots of power. Lines up into the breeze and released the electrons and she scooted off and up. Too much up as it happened. I suddenly remembered that this one has the annoying habit of wanting to stand on its tail under full power! So there she is going up at about a 60 deg angle and arcing to the
...Continue Reading
My avatar pics full sized
Flight 1: Aborted. Veered sharply right into the grass and damaged the nose gear. Nose gear disengaged.

Flight 2: Free castoring nose wheel. Veered slightly left, launched off of grass edge of ballfield. Approx 3 minutes of flawless flight. Landing gear wire very weak. Lipo charge-- pack#1 took 1.223 amps, pack #2 took 1.213 amps, both down to 3.8+ volts per cell.
"Never in the field of human conflict was so much owed by so many to so few. All hearts go out to the Fighter pilots, whose brilliant actions we see with our own eyes day after day, but we must never forget that all the time, night after night, month after month, our bomber squadrons travel far into Germany, find their targets in the darknessÖaim their attacks, often under the heaviest fire, often with serious lossÖand inflict shattering blows upon the whole of the technical and war-making structure of the Nazi power"

Winston Churchill.

I'm about half way done assembling the 40 sized VQ Hawker Hurricane. Maidened! Flies great.

My WWII RAF aircraft so far:

GWS Spitfire
ParkZone Spitfire
VQ Hawker Hurricane
CMPro Spitfire
FMS Spitfire
FSK Mosquito
Vickers Wellington
HVP Beaufighter