Few pictures of full scale
Extensive re-modeling, plug #2. I dont like this camera hue, switching back to the warmer shade. I can work on this all weekend then it has to be put away for a few weeks
Im going to try and get this new master plug done and all the details on it and ready to mold before I store it.
I'm weary of any simulator aircraft thats free. I was just about to pony up $30 for a payware Connie then I hit this and gave it a try. Im SO glad I tried this one! Its fantastic! And has enough accuracy and complexity to keep me interested in it. Top notch job!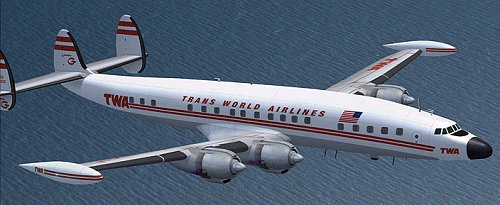 Link and download site:
http://www.calclassic.com/sconnie.htm
It has a great engineers panel and working just about everything. it all looks great and works. The add on sound pack is awesome too. I feel guilty about not paying for it! I have paid for stuff that is far inferior to this add on plane.
I originally bought this fiberglass Connie fuselage because it was a good deal ( I thought anyway). The more I dove into it, the more I found wrong with it from a scale standpoint with its outline.

As its turning out I could have built one from scratch thats exactamundo scale rather than keep fixing this thing. Oh well, whats done is done and I'll get its outline as close as possible to scale looks.

This is my 4th attempt at doing the Connie's windscreens. A seemingly simple job but very deceptive in that! I think its getting close though finally. Plus the fuselage as it was did not have a big enough "hump" thats so charicteristic of the Constellation. So i massaged the fuselage to represent this more.
Simulated fabric covered rudders. I will make molds of these to lay up light skins that cover a simple built up balsa structure
As unexciting as is it to look at plans, here are some more.
The Constellation is coming along nicely. I found some great plans of the real plane finally and am modifying mine accordingly. The idea is to make kits for this which include:
Fiberglass fuselage
Fiberglass nacelle "skins"
Resin cast thin wall cowls
Full plans set for built up wings and stabs
Other minor detail parts, castings and layups TBD
Im keeping it relatively simple. I know in this world of instant Chinese low cost gratification with mediocre cookie cutter models, there are still some who like to build and have something special. Or at least im fooling myself into thinking so in order to finish this!
Thats the idea anyway. Im sending a first fuselage and plans set to Mike Neff AKA "Neffwaffe" so im sure he will be flying it in not too long!