Made it to San Antonio today and up to the track for the tail end of Ferrari Challenge Practice.

Got out tickes from Will Call and our parking pass for the weekend also.
Well after flying my Avistar for quite a while I finally got to the point where I wanted to do some mods. I started by of course changing the motor to something more powerful (OS46FX) and then converting to a taildragger landing gear.

Always wanting to take the dihedral out was going to have to wait until NOW!

I cut the wing in half with a hack saw blade and removed the original joiner and first wing rib. Since I am going to make this a bolt on wing I need a new joiner anyway.

To remove the dihedral I simply bent the stock 1/4" steel spar with a blunt chisel and mallet until the wing was straight.

I made servo bays in the wing and am running separate servo.
I am using the stock single servo and linkage for flap control.

There are about 100 LED's in each half of the wing and I use a RX switch on the gear channel to turn them on and off.

The covering is China-coat from Hobbyking and was really impressed by how it went on for the price.


Flight report: This thing flys beautifully! Rolls are accurate and quick. It holds lines until you move it.

The flaps allow for very slow tail wheel first (by a long shot) landings and because it is precisely laterally balanced it never drops a wing if you stall it just above touch down. It will just fly slow and settle onto the road.

Inverted flight requires slight down elevator and the plane is just as happy as if it were right side up.
Picked this up the other day.
Its a RedCat RS10XT. I have changed the stock servos to metal gear both front and rear.
I am also running a Novak Rooster Crawler ESC and am using my DX6i for control duties along with a Orange 4ch receiver. I like having the rear steer on the rudder stick and use the aileron stick for front axle steering and throttle which is the elevator control.
I have a mix on the flap switch that steers the front and rear opposite each other for tight radius turns or can do it manually with the sticks.
I run a full droop suspension using the stock shocks with 2000# oil in them.
This allows for a low CG and a slow suspension. Have to remember we are crawling and not blasting thru whoops.
The stock tires have been siped and have about 100 cuts in each of them. They work 100% better than they did before but have some HB Rover-EX tires waiting in the garage.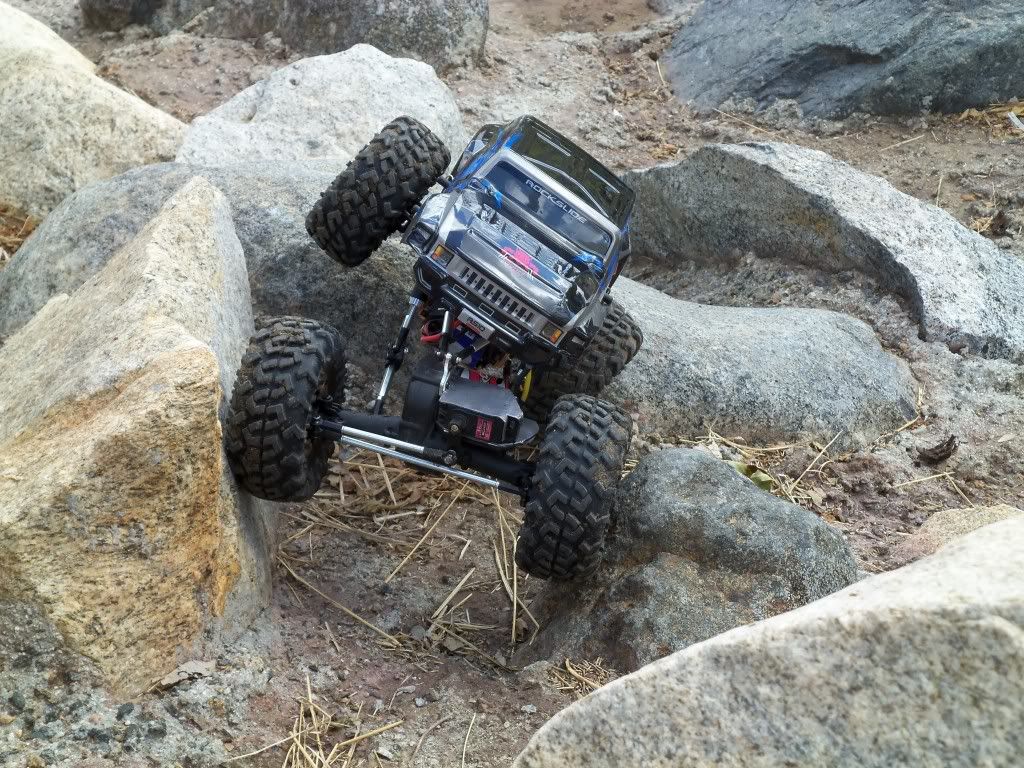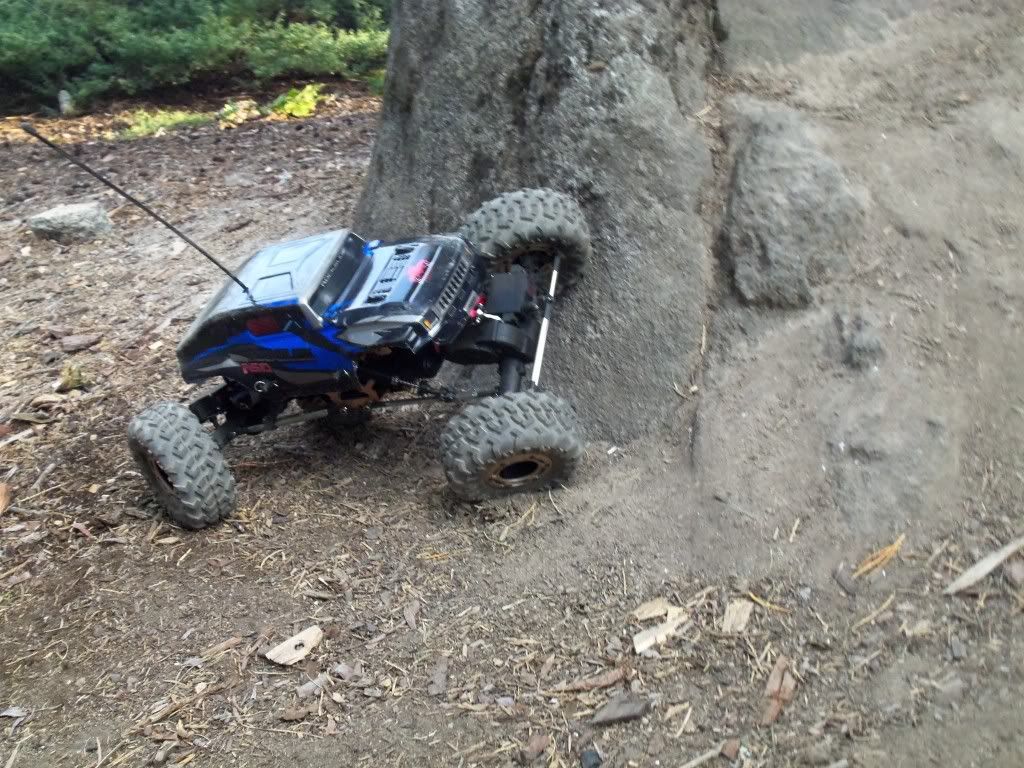 ...Continue Reading
Went to a fun fly after work today and had some fun with some friends. Saw some neat planes and a few go in unfortunately.

My Bobcat is no more. I botched a landing with it a few weeks ago and it kinda self destructed. It could be fixed but am not wanting to fly this plane anymore.

My Avistar is getting the wing flattened with maybe a little Anhedral added too. Flaps are getting added and so is hard mounting the wing with bolts.
Geez been awhile since my last entry and my hangar has grown a little.

I now have retired the HZSC but still fly the Ultrafly FW190. A few months ago I got an EasyStar and it has the Six Series in-runner I used to use in the Cub.

After flying the EZ* at the beach I decided to build a slope wing so I got a RiteWing TL50.

I also have a Nitroplanes Bobcat with a Tower Hobbies .75 hanging off the back, radar-ed at 94 MPH.

For Christmas my wife got me the E-flite Su-26M and I just finished the final touches and final balancing. I made a 2D Snoopy pilot and also got the option wheel pants. This is my first 3D type plane and am getting better every day.

I gave up on the FP helis and got a Blade 400 CP, after the required newb crashes it has proved to be a very reliable heli. Set up is critical and you learn a lot quickly with CPs (thanks to finless)

I got 3 cars now also, 2 electric and 1 nitro. HPI Blitz and Traxxas VXL Rustler are the electrics and the XTM XT2 TE is the nitro.
Finally got some video of my new FW190, this is my fist balsa plane and also my first low wing non-trainer plane. She handles really nice and lands really softly once the rock hard stock tires were changed.
Went flying for the 4th time this week, I guess there one benefit to being laid off from your job
Also have been sic for three weeks now, went to the doctor today and he says I have bronchitis so got some of the good cough syrup
The FW is an animal with a 11x7, cruise is about 3/8 throttle and anything above 3/4 is Warp speed engaged. I have used a 10" on it earlier but it just looks to dang small so maybe a throttle endpoint adjustment is needed.
The cub is as floaty as ever especially with the mild wind we have had here on the coast.
Changed the wheels on the FW190 to Dave Brown Lite Flights and it lands so much better. The stock wheel are hard foam and with the long gear wire it would want to rebound the plane back up even on somewhat nice landings.
Fist post but have been flying RC for a while now, anyway I live in Oceanside, Ca and am what you would call a Renagade flyer as I do not belong to the AMA or any club. I fly where I can and as often as I can which lately is everyday as I have been laid off by my employer.

My planes are a fully modded Hobbyzone Super Cub and a Ultrafly FW190A3 which is balsa. I also am just getting into Heli's but have only gotten as far as a FP for now as I see it is going to cost a lot more than fixed wing does.