A few friends have asked me to write up a review on the Wltoys V929 quad copter. Here it is: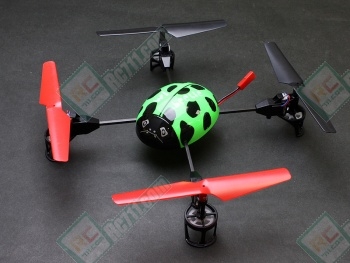 It is basically a 99% Blade MQX clone. By 99% I mean 99% of the parts are interchangeable. I purchased mine from
http://www.banggood.com
(free shipping yay!) It is a Chinese based distributor. I paid $45.99 shipped to my door ready to fly. There are other retailers out there but banggood seems to have the best deal.
This IS NOT spektrum/dsm2 compatible. It will however work with the popular Turnigy 9x radio without having to do any modifications.
The pros:
Its a $45 quad copter ready to fly with a transmitter, 500mah 1cell battery and a charger.
It has local hobby shop support (Blade mqx parts available locally).
Works with Turnigy 9x radio.
It can handle a relatively small payload such as the 808 keychain cameras/micro fpv gear.
It is capable of doing programmed "flips" in forward, backward or side to side.
It can "roll" in a big loop just like the mqx.
It is absurdly durable. I have crashed this thing into the ceiling fan, the hard ground at the field, the concrete, my parents sliding glass door when visiting (whoops lol) and I have not had to replace a single part yet.
Its quite stable and holds its position fairly well if you take the time to balance out the props/make sure the battery is centered.
It uses the same battery as the blade 120sr so again, local battery packs at the lhs.
The Cons:
Not quite as stable as the mqx but man is it close.
It comes
...Continue Reading