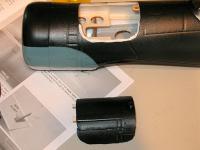 Here is my enlarged hatch. You can see the area where I expanded it to help fit my ElectriFly 1500 2s pack and eased servo access and installation.
<<
Here is the elevator servo and included EZ connector. The S75 fit with just slight trimming.
<
*
Completed tray with everything installed. Installation of the included hook and loop tape finished the job. Nice to have that included!
>
My next snag was a servo that failed during installation – hey better now than in the air! This failure meant I had to cut out that old servo I had glued in, to replace it with the HS-55 seen here. The small sticks replaced the area I removed when pull
>>