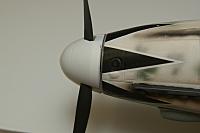 The ABS spinner is large and flexible. It took a while to get it centered where it wouldn't wobble around while turning. I didn't get it exactly centered, but it causes no vibration and you can't tell in flight.
<<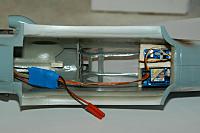 You can see the elevator servo/receiver tray on the right. Things get a little tight when you install the molded styrene cockpit though. Make sure the aileron servo doesn't bind on the cockpit floor before gluing the wing in place. You can also see the
<
*
When compared to an unweathered panel, the weathered panel looks more like a full scale aircraft part. (The color of this photo isn't an accurate replica of the real thing. The plane doesn't look as orange in person. )
>
You can plainly see the difference between the weathered panel and the new one. I used burnt umber acrylic paint to create the effect. Be careful, rubbing alcohol will remove the original finish.
>>