The canopy is molded styrene plastic as are the simulated windows. Use a pair of scissors designed for cutting out RC car bodies to trim the molded styrene parts.
<<
Here is a view of the cockpit minus the pilot. The battery installs in the opening forward of the dash board. The wing can be relieved to allow longer than normal batteries to be used. The wing was relieved during assembly to allow the PolyQuest 800mAh
<
*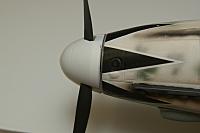 The ABS spinner is large and flexible. It took a while to get it centered where it wouldn't wobble around while turning. I didn't get it exactly centered, but it causes no vibration and you can't tell in flight.
>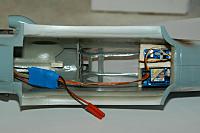 You can see the elevator servo/receiver tray on the right. Things get a little tight when you install the molded styrene cockpit though. Make sure the aileron servo doesn't bind on the cockpit floor before gluing the wing in place. You can also see the
>>