Front and back cockpits.
<<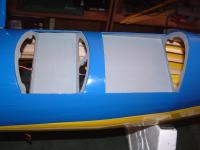 Sort-of bare wouldn't you say?
<
*
The 2-piece landing gear held in place with four bolts (& thread-locker) I threaded into pre-installed blind nuts. Three access holes were pre-cut, so installation was a breeze.
>
Wheel pants sure add a lot to the looks of an aircraft, & were easily installed!
>>