They sure do look three dimensional. The clear plastic laminated real Pitts Monster photographs cost less than most dashboard offerings!
<<
Front and back cockpits.
<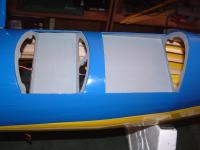 *
Nice improvement - yes???? Notice how a pilot bust can be added and they blended to 'almost 3D!'
>
The 2-piece landing gear held in place with four bolts (& thread-locker) I threaded into pre-installed blind nuts. Three access holes were pre-cut, so installation was a breeze.
>>