Easy access to set screw on needle valve. To access the needle valve a removable extension had to be utilized. By removing a section between the cylinders, access to the high speed needle valve was accomplished.
<<
Click on the picture to really see the needle valve.
<
*
Front and back cockpits.
>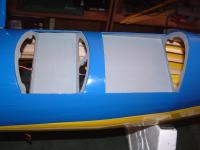 Sort-of bare wouldn't you say?
>>