The large tail surfaces are ready to be hooked up. The huge surface area allows easy 3D aerobatics.
<<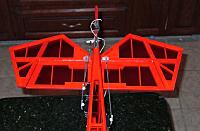 The tail servos connected to the surfaces on very short linkages.
<
*
Three servos are mounted in the tail to control the Elevator and Rudder.
>
A side view of the cockpit area.
>>