Side view of surface deflections. Notice there is no vertical fin -- just a tall fuselage and the rudder mounted directly to it.
<<
The large tail surfaces are ready to be hooked up. The huge surface area allows easy 3D aerobatics.
<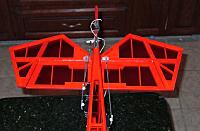 *
The extreme control movements allow the Harrier to perform amazing stunts.
>
Three servos are mounted in the tail to control the Elevator and Rudder.
>>