Trimming the cowling to clear the motor, using a piece of poster board to make a template.
<<
Side view of surface deflections. Notice there is no vertical fin -- just a tall fuselage and the rudder mounted directly to it.
<
*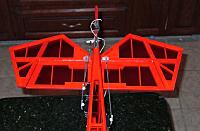 The tail servos connected to the surfaces on very short linkages.
>
The extreme control movements allow the Harrier to perform amazing stunts.
>>