The throttle servo sits by itself in the fuselage. It looks lonely since the elevator and rudder servos are mounted near the tail of the plane.
<<
I held the motor clamped in place and drilled pilot holes for the mounting bolts.
<
*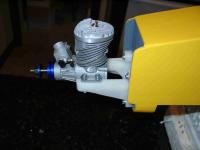 The motor is bolted in place at 125mm, so that the cowl will now fit properly.
>
Trimming the cowling to clear the motor, using a piece of poster board to make a template.
>>