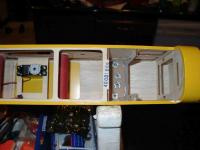 The Fuselage has plenty of room for mounting all of the equipment.
<<
The throttle servo sits by itself in the fuselage. It looks lonely since the elevator and rudder servos are mounted near the tail of the plane.
<
*
The suggested 120mm distance for the motor was not quite enough to allow the cowl to slip over the motor and cler the drive washer. I moved it out to 125mm so the cowling fit properly.
>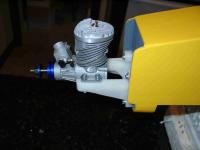 The motor is bolted in place at 125mm, so that the cowl will now fit properly.
>>