The wings slide on to two aluminum spars that pass through the fuselage. Two nylon bolts secure each wing panel to the fuselage.
<<
The wing bolts are easy to reach even for fat hands!
<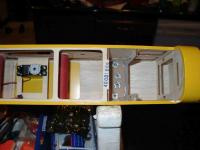 *
The throttle servo sits by itself in the fuselage. It looks lonely since the elevator and rudder servos are mounted near the tail of the plane.
>
I held the motor clamped in place and drilled pilot holes for the mounting bolts.
>>