The complete wing assembly. All that was required to complete each wing panel was hinging the ailerons with the included CA hinges and mounting a servo in each wing panel.
<<
The wings slide on to two aluminum spars that pass through the fuselage. Two nylon bolts secure each wing panel to the fuselage.
<
*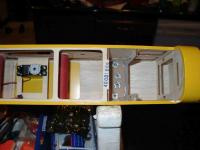 The Fuselage has plenty of room for mounting all of the equipment.
>
The throttle servo sits by itself in the fuselage. It looks lonely since the elevator and rudder servos are mounted near the tail of the plane.
>>