The Evolution .46 Engine.
<<
The complete wing assembly. All that was required to complete each wing panel was hinging the ailerons with the included CA hinges and mounting a servo in each wing panel.
<
*
The wing bolts are easy to reach even for fat hands!
>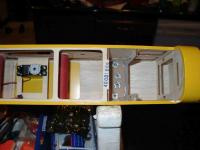 The Fuselage has plenty of room for mounting all of the equipment.
>>