Dashboard attached to transmitter. (Eagle Tree picture)
<<
The complete kit contents, picture from Eagletree's website. The basic Glide unit includes three feet of Pitot Tube hose, metal Pitot Tube, battery Y connector, USB cable, windows CD and an operating manual.
<
*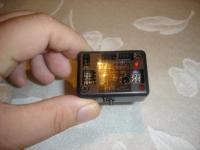 Here is the new Flight Data Recorder Pro.
>
This is the new Seagull wireless Dashboard. It includes a plastic clip for mounting to the radio transmitter's antenna.
>>