The rudder also came pre-installed with even the pushrod attached to the clevis!
<<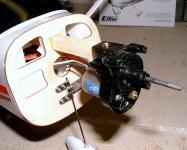 Motor installation couldn't have been simpler. I just slid the mount over the stick, drilled a pilot hole and inserted the screw. And it was done!
<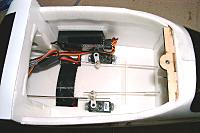 *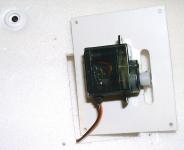 A "Y" harness was installed thru the wing to the precut servo bays. The aileron servos were mounted with double stick tape to the plastic servo covers. Then the covers attached with four screws. Once again no problems.
>
The Thunder Power 1320mAh 3-Cell 11.1V LIPO fit perfectly in the battery compartment. There was plenty of room for connecting and disconnecting the battery for charging.
>>