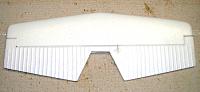 Elevator arrived with preinstalled hinges and control horn. There was nothing to do here! All the hinges arrived tightly glued with no binding anywhere. Notice the nice molded in fluting.
<<
The rudder also came pre-installed with even the pushrod attached to the clevis!
<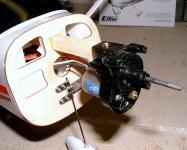 *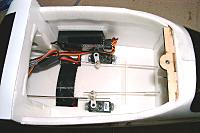 The E-Flite Sub-Micro S75 Servo's and JR 770S receiver fit perfectly. Just a touch of hot glue and I was done. Using the E-Flite Micro Control Connectors (included) made connecting the preinstalled pushrods a snap. There was plenty of room to work in the
>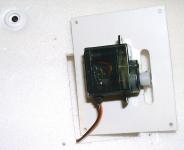 A "Y" harness was installed thru the wing to the precut servo bays. The aileron servos were mounted with double stick tape to the plastic servo covers. Then the covers attached with four screws. Once again no problems.
>>