I did have to slide the main landing gear into a reinforced slot in the bottom of the fuselage. I added just a bit of hot glue, just for insurance.
<<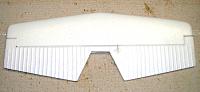 Elevator arrived with preinstalled hinges and control horn. There was nothing to do here! All the hinges arrived tightly glued with no binding anywhere. Notice the nice molded in fluting.
<
*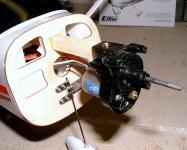 Motor installation couldn't have been simpler. I just slid the mount over the stick, drilled a pilot hole and inserted the screw. And it was done!
>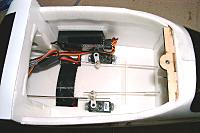 The E-Flite Sub-Micro S75 Servo's and JR 770S receiver fit perfectly. Just a touch of hot glue and I was done. Using the E-Flite Micro Control Connectors (included) made connecting the preinstalled pushrods a snap. There was plenty of room to work in the
>>