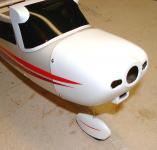 The cowl fit nicely! Even the cooling holes were pre-cut.
<<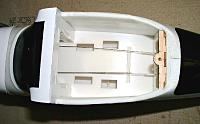 The servo mounting holes were also pre-cut! All glue joints were very clean and well done.
<
*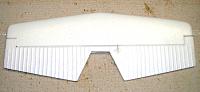 Elevator arrived with preinstalled hinges and control horn. There was nothing to do here! All the hinges arrived tightly glued with no binding anywhere. Notice the nice molded in fluting.
>
The rudder also came pre-installed with even the pushrod attached to the clevis!
>>