Very clear, step by step photo detailed instructions. This particular page shows different engine options and mounting instructions. The instructions left nothing to the imagination...or error.
<<
The one piece wing required no assembly. I mounted the servos to the servo hatches, installed the "Y" harness to the servos, and mounted the servo hatches. It couldn't have been easier.
<
*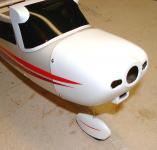 The cowl fit nicely! Even the cooling holes were pre-cut.
>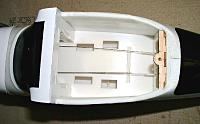 The servo mounting holes were also pre-cut! All glue joints were very clean and well done.
>>