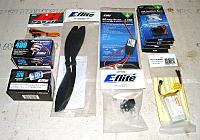 All the additional E-Flite components needed to get in the air.
<<
Very clear, step by step photo detailed instructions. This particular page shows different engine options and mounting instructions. The instructions left nothing to the imagination...or error.
<
*
Fuselage straight out of the packaging. Note the noise wheel, cowl, hinges and pushrods were already installed!
>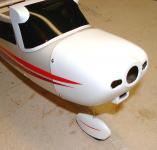 The cowl fit nicely! Even the cooling holes were pre-cut.
>>