Individual wrapped parts and assemblies. All the hardware needed to complete the plane was included.
<<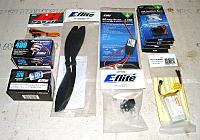 All the additional E-Flite components needed to get in the air.
<
*
The one piece wing required no assembly. I mounted the servos to the servo hatches, installed the "Y" harness to the servos, and mounted the servo hatches. It couldn't have been easier.
>
Fuselage straight out of the packaging. Note the noise wheel, cowl, hinges and pushrods were already installed!
>>