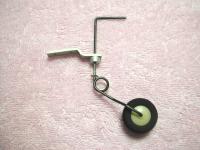 The tailwheel assembly was built as instructed, with the addition of a small washer silver soldered under the mounting bracket to transmit the loads to the bracket instead of the rudder hinges.
<<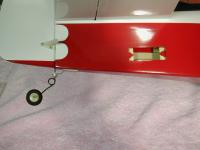 The completed tailwheel assembly, with control horn added. The steering arm for the tailwheel extended into the rudder, and was positioned so that the control horn was mounted over it, to add strength to the assembly.
<
*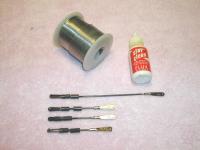 Though the supplied hardware was adequate for the job, I preferred to use 2/56 rod, with a soldered clevis on one end, and a sullivan adjustable clevis on the other.
>
After cutting the covering back for the rudder and elevator servo mounts, I carefully ironed the covering back down over the bare wood edges to keep out the exhaust oil.
>>