Checking to see if all is well....
<<
The display when there is a bad connection between the output and the battery to be charged (or it's connected to the other output...oops!)
<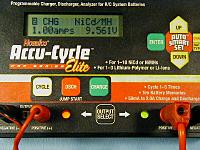 *
Voltages after a charge is completed.
>
Capacity put into the battery and the elapsed time.
>>