and capacity matches, too!
<<
Paused between cycles.
<
*
The display when there is a bad connection between the output and the battery to be charged (or it's connected to the other output...oops!)
>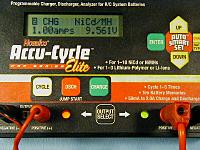 Discharging on output 1 while charging on output 2. Note the display is showing the status of output 2.
>>