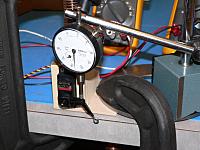 Here you can see the frame made to hold the servo in place. The dial indicator is pushed by the servo arm.
<<
This is the amount of weight to get 58 oz-in of torque at the servo arm. It is impressive to think that all that load is being held by a plastic output spline. The HS-6635HB happily lifted these giant nuts and more. See below for more details.
<
*
This graph shows the "droop" that the servo experiences when putting out 40 oz-in of torque. Note that the deflection from the zero load position is only a few degrees and that it's less at 6.0v than it is at 4.8v...a good reason to use 5 cell RX packs i
>
At 58 oz-in of torque, the "droop" of the servo arm position is more pronounced, as expected. The overall droop though is still pretty reasonable considering the load, and the benefit of the 5 cell receiver pack is more pronounced.
>>