This mess actually does something. The multimeters are used to measure the current and voltage supplied to the servo. The dial indicator allows me to measure the position of the servo horn.
<<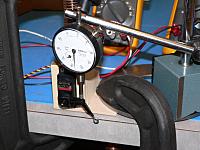 Here you can see the frame made to hold the servo in place. The dial indicator is pushed by the servo arm.
<
*
This graph shows the servo's ability to return to the same home position under no load. 20 trials were performed and the angular deviation from the median position is shown on the vertical axis. As can be seen, this is a very accurate servo!
>
This graph shows the "droop" that the servo experiences when putting out 40 oz-in of torque. Note that the deflection from the zero load position is only a few degrees and that it's less at 6.0v than it is at 4.8v...a good reason to use 5 cell RX packs i
>>