When you remove the bottom cover, the digital amplifier and motor are visible. The motor is just a plain 3 pole motor, but its performance is very impressive. Note the use of silicone to prevent vibration from causing the motor leads to fail...a nice to
<<
This mess actually does something. The multimeters are used to measure the current and voltage supplied to the servo. The dial indicator allows me to measure the position of the servo horn.
<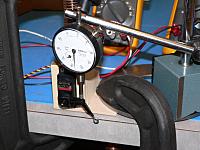 *
This is the amount of weight to get 58 oz-in of torque at the servo arm. It is impressive to think that all that load is being held by a plastic output spline. The HS-6635HB happily lifted these giant nuts and more. See below for more details.
>
This graph shows the servo's ability to return to the same home position under no load. 20 trials were performed and the angular deviation from the median position is shown on the vertical axis. As can be seen, this is a very accurate servo!
>>