The servo lead that comes with the HS-6635HB is very nice. The wires are 60 strand 22 AWG copper wire with a high quality, very flexible jacket. This lead is more than up to the task of carrying the additional current required by the digital amplifier.
<<
This is where the HS-6635HB is unique. It uses Karbonite gears which are a reinforced plastic. This gives nearly the strength of metal gears with the smoothness and near-zero backlash of nylon gears. It truly is a perfect choice of material for a servo
<
*
This mess actually does something. The multimeters are used to measure the current and voltage supplied to the servo. The dial indicator allows me to measure the position of the servo horn.
>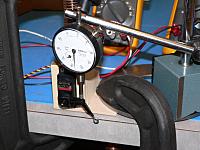 Here you can see the frame made to hold the servo in place. The dial indicator is pushed by the servo arm.
>>