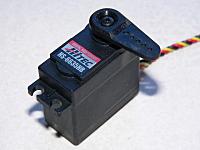 The HS-6635HB is made with a rugged reinforced plastic case and exudes a feeling that it costs much more than it actually does.
<<
The Hitec HS-6635HB comes packaged in a handy plastic box that can be used around the workshop for storing all those little bits that tend to create clutter.
<
*
The servo lead that comes with the HS-6635HB is very nice. The wires are 60 strand 22 AWG copper wire with a high quality, very flexible jacket. This lead is more than up to the task of carrying the additional current required by the digital amplifier.
>
This is where the HS-6635HB is unique. It uses Karbonite gears which are a reinforced plastic. This gives nearly the strength of metal gears with the smoothness and near-zero backlash of nylon gears. It truly is a perfect choice of material for a servo
>>