Article Thumbnail
<<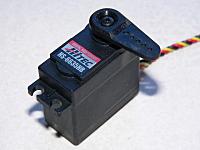 The HS-6635HB is made with a rugged reinforced plastic case and exudes a feeling that it costs much more than it actually does.
<
*
The HS-6635HB comes with a very nice assortment of strong servo horns. They are thick and very stiff...perfect for those large & heavy control surfaces on sport aerobatic airplanes.
>
The servo lead that comes with the HS-6635HB is very nice. The wires are 60 strand 22 AWG copper wire with a high quality, very flexible jacket. This lead is more than up to the task of carrying the additional current required by the digital amplifier.
>>