The Jeti Phasor 45/3 and 40-3P controller looked to be a very good "Plug and Play" choice. The Jeti 40-3P speed control is good for 40 amps and has a BEC that can handle 3 standard servos while operating with 12 cells.
<<
A clam shell mount allowed the 45/3 to be easily mounted in place of the standard .40 glow engine.
<
*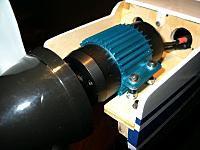 The completed 45/3 mounting, ready to power-up.
>
What are we waiting for?...
>>