When using car six-packs, be sure to change the connectors!
<<
The Jeti Phasor 45/3 and 40-3P controller looked to be a very good "Plug and Play" choice. The Jeti 40-3P speed control is good for 40 amps and has a BEC that can handle 3 standard servos while operating with 12 cells.
<
*
We used the new blue anodized one with heat fins from Maxx Products.
>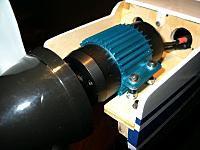 The completed 45/3 mounting, ready to power-up.
>>