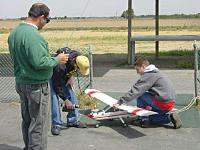 Jeff taught them how to start the engine. Andy approached it cautiously for his first attempt.
<<
Andy in the air!
<
*
Here the tail is secured with a rope and Ross is holding it firmly while Andy starts up the plane.
>
Jeff making the first take-off into a strong breeze.
>>