Jeff instructing Ross about the engine's choke and the engine in general. Note the spin control airfoil extension on the wing.
<<
Jeff did a complete ground school. Here he is showing them how to fill the gas tank.
<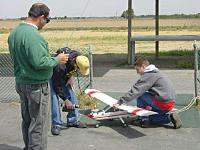 *
Andy in the air!
>
While Ross secures the plane, Andy gets ready to start it.
>>