Ross practicing his take-offs and landings.
<<
Jeff instructing Ross about the engine's choke and the engine in general. Note the spin control airfoil extension on the wing.
<
*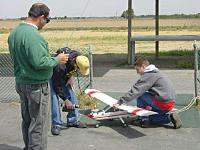 Jeff taught them how to start the engine. Andy approached it cautiously for his first attempt.
>
Andy in the air!
>>