Ross on the left and Andy on the right getting a final tune-up before going to the field.
<<
Ross practicing his take-offs and landings.
<
*
Jeff did a complete ground school. Here he is showing them how to fill the gas tank.
>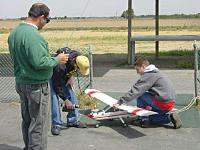 Jeff taught them how to start the engine. Andy approached it cautiously for his first attempt.
>>