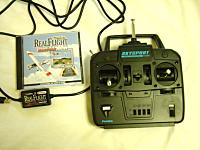 Mini-version of RealFlight simulator with adapter to connect the included transmitter to your computer.
<<
Included DVD that explains some of the basics about your new plane and system.
<
*
You can remove or add back items of scenery to make the flying site easy or interesting.
>
Here are the two speed flaps installed. Just use three screws on each one and screw into predrilled holes in the trailing edge of the wing.
>>