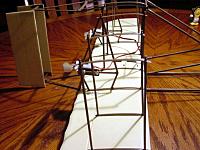 The outside most pair of struts has notches on the back for attaching strings to the top and bottom.
<<
One screw goes through the plastic plate they supply and secures the back end of both servos.
<
*
Look at the wires from bell cranks. Wire on right is correctly connected, wire on the left is not, note angle.
>
All wires now installed correctly and Vs bent to get the ailerons to neutral.
>>