After the motor struts come the pair of plain struts.
<<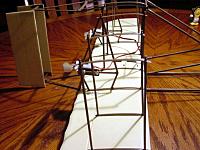 The outside most pair of struts has notches on the back for attaching strings to the top and bottom.
<
*
Clear fasteners are used to secure the wing to the struts. This is the top wing; slide it in and secure to struts with these fasteners.
>
Look at the wires from bell cranks. Wire on right is correctly connected, wire on the left is not, note angle.
>>