The struts with motors go into the first set of holes away from the fuselage.
<<
After the motor struts come the pair of plain struts.
<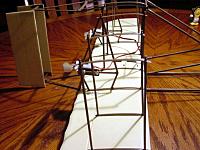 *
One screw goes through the plastic plate they supply and secures the back end of both servos.
>
Clear fasteners are used to secure the wing to the struts. This is the top wing; slide it in and secure to struts with these fasteners.
>>